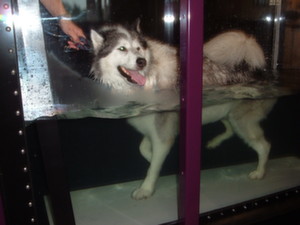 At Sunnyview Animal Care, we know that animals experience pain in much the same way as people do – they just accept it much better and, therefore it can be easily missed! We use our knowledge of pain medication and pain relief strategies to prevent and manage pain in ALL pets, both before and after surgery and in the event of an injury or infection. We refer to this as a 'Pain Management Strategy' or 'Pain Management Protocol' – and following AAFP Pain Management Guidelines available here _ its just that important to you and US!
We can also ease pain caused by chronic disease, such as arthritis. Sunnyview Animal Care also wants our clients to consider the benefits of Nutriceuticals such as Glucosamine, Chondroitin & MSM for the prevention or to alleviate the discomfort of Osteoarthritis early in the process, as pain medications just 'mask the symptoms'.
Ask us about our pain management options and plans, which we will tailor to your pet's medical condition and individual needs. There are times that a single pain medication or supplement may not be enough for your pet's comfort. Does your pet suffer from 'side effects' from their pain medication? There are medication mixtures that allow us to reduce the overall doses of any & all medications involved, and still allow the use of a medication that might have caused your pet issues in the past but worked for their pain management!
Finally, Sunnyview's Veterinarians are very experienced in the management of exotic pet discomfort as well! If your ferret, rabbit, reptile, bird is in discomfort we can help!