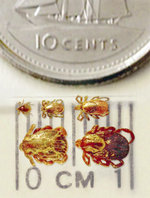 Lyme Disease is only the most recent ailment recognized as being carried by Ticks, and that affects different species – infecting ourselves & our pets.
Lyme Disease is only carried by the Blacklegged tick in Nova Scotia, and although the last published data & maps show there are only six 'hot-spots' for Lyme disease in our province, and while not all Blacklegged ticks carry lime disease, it is clear that these areas are unrepresented. Ticks are spreading at an average of 15km per year, so the areas on this map (NS Government Lyme Disease Information Web Site & Distribution Map) are larger then when it was published in 2014.
Black legged ticks are found across the province, surviving best in areas with a moist habitat, and Halifax Regional Municipality, Lunenburg, Queens, Shelbourne, Yarmouth, Pictou are 'Hot Spots' & if you travel to them (with or without your pet), there is a risk of contracting Lyme disease.
Keep in mind that while adult ticks appear to be the only ones transmitting Lyme disease to our pets; But people appear susceptible to Lyme Disease spread by BOTH Nymphs & Adult Blacklegged Ticks – so prevention is the key.
Look how small nymph-ticks are in the attached picture! Nymphs are the really tiny ones at the top!
Also, annual Lyme Disease testing is something to consider for your pet – this will tell us if you & your family are at risk for exposure to Lyme disease. After all – If we don't look for this disease, and the ticks that carry it – it is easy to miss!
Please consider Tick Prevention Programs for your pet and reduce the risk to your family, give us a call to discuss this anytime!
Dr Jeff