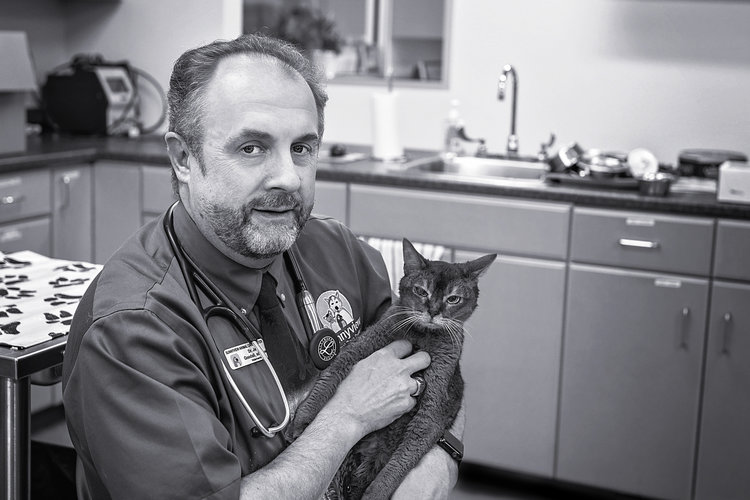 Dr. Goodall wanted to be a veterinarian from the age of 12, and thanks to his first dog 'Mishka' and his high school home-room teacher, was able to sled race with the Siberian Husky Club in southern Ontario. Dr. Jeff graduated from the Atlantic Veterinary College in 1994, after obtaining a BSc from Dalhousie University. After graduation, Dr. Jeff traveled extensively through western Canada over four years as a mixed animal veterinarian, before returning to his native Nova Scotia. Dr. Goodall splits his time between caring for his clients' pets, his own, and his (very) understanding family.
Dr. Goodall is a Level 1 Certified Laser Clinician, and attends regular continuing education programs, frequently exceeding the minimum annual hours required for licensing as, he believes there is so much our practice can offer any one of our patients. Also, Dr. Jeffl is a member of many Special Interest associations.
Dr Goodall is an experienced Apiarist with four active honey bee hives in his backyard, and having taken many Bee Health-management courses, please call him with your bee-related questions! As of the Summer of 2022, he will be doing apiary calls as needed.
UPDATE – as of October 2021, Dr Goodall is no longer taking NEW avian patients due to allergy issues and will miss seeing these pet's he absolutely loves. We will continue to see clients that were 'active' prior to this date – we apologize for any inconvenience this will cause bird lovers of the HRM & elsewhere.
If you have the time – tune into City News Halifax (95.7 FM) & CBC Maritime Noon (90.5 FM) Monthly to listen to these veterinary call-in shows for more pet care information, or follow our 'Meta'/ Facebook, or Twitter feeds for updated pet care info as well!
In addition to enjoying the practice of veterinary medicine, Dr. Goodall is happy to speak or write on Animal Care, Exotic Pet Care, Dog Bite Prevention in children and the benefits of CO2 Laser surgery.