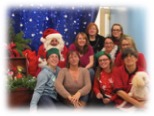 The Sunnyview Team would like to take a moment to extend our sincere thanks to all of our clients for a wonderful year!
We are excited with the move into our new location 36 Duke Street in Bedford this June. Although it was a bit of an adjustment and we still have fine tuning with some details, we couldn't have done any of it without all of you. So thank you and thank you for your patience during the move and settling in.
We welcomed Dr. Jennifer Marriott to our team in June and she has fit right in with all of our patients and clients. Next time you're booking an appointment consider seeing Dr. Jenn you won't regret it!
We recently held our 8th annual Santa Paws pictures and had our best turnout yet raising $1120 for Feed Nova Scotia with the help of everyone who came and donated both money & food!
It was wonderful to see all of our long time and new to us clients at our open house this year. We look forward to seeing you all in the New Year.
2016 marks our 16th year in business and that again is all thanks to you for choosing us and allowing us to care for your 4 legged family members!
We wish all of you a very Happy Holiday Season and the very best for 2016!
Our Holiday Hours are below –
Your Bedford Veterinarians, Lower Sackville Veterinarians, serving as Halifax Veterinarians, & Dartmouth Veterinarians as well!