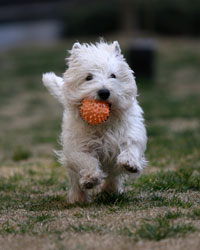 A great exercise for your dog is swimming, and what a great thing to do with your pet for yourself as well!
Also, swimming is a great way to keep your pet cool this summer too – but as the news has been telling us, in the latter part of August and September the bacteria counts of many of our lakes begin to climb to levels that could make your pet ill.
Plan Ahead – look for website information on the beach you are going to, pack lots of water & a bowl, towels, a long leash or rope, tie out, beach umbrella (if you can), & a life jacket.
Before you take your dog for a swim – check online for local parks & recreation bulletins on the lake you are going to first. Also, some ocean beaches can get high bacteria counts with our August heat 'blasts' – so check them out as well.
Don't forget to consider a life jacket for your pet – it acts to not only increase their buoyancy, BUT also lets you see them if they get beyond your reach, and if you are ocean beach swimming can save their lives if there is a rip tide.
While your pet is swimming – have fresh water and a bowl nearby to help them slake their thirst without drinking the water, in case the bacteria counts are high. You will be surprised at how much water your pet will need – so pack extra.
After you get home, it is never a bad idea to rinse off any dog after swimming to reduce the contamination of bacteria – then use a few drops of straight white vinegar in the ears after you clean them too with a good quality ear cleaner. (Don't forget to clean the ears after any bath too!)
You can always use a 1/2 & 1/2 vinegar water rinse on your pets coat after rinsing them off if they have a history of skin issues – as long as there is no active infection or open wounds, and of course, avoid the eyes and mouth!
Have a great few weeks of summer!
Submitted by Dr. Jeff W. Goodall
Sunnyview Animal Care / www.sunnyview.vet